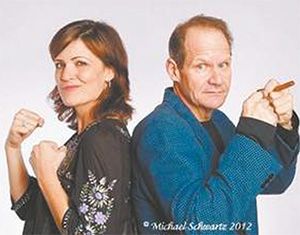 By Howie Nave, Lake Tahoe Action
"Zan vs. Zany," a bare-knuckle brouhaha that will hit you in the funnybone at Harveys Improv through Sunday.
Give Bob Zany credit for one thing: he keeps reinventing himself.
He was last at Harveys Tahoe Improv just as the Mayan calendar had predicted the end of the planet. That didn't happen but the next best thing was Bob Zany appearing up here.
Actually, the Mayans were kind of close because every Tuesday Bob can be heard on my morning radio show — "Howie's Morning Rush" on KRLT 93-9 The Lake — with "The Zany Report." Bob offers commentary based on current events. He always ends his segment with his patented tag, "Bay-bee!"
Getting back to reinventing himself, Zany has put together a very funny show, with relative newcomer comedienne Zan Aufderheide from the Midwest, titled "Zan vs. Zany." It's more than just a "He Said, She Said" show; rather a generational comedy performance. A lot of it is improvisational and includes the audience, too.
That's what I mean about Bob reinventing himself. He's very funny, true, but he knows that incorporating others into his circle not only helps new comedians but expands Zany's expanding influence in the comedy business. Bob has produced numerous comedy shows breaking in then-unknown acts such as Garry Shandling, Yakov Smirnoff, Robert Wuhl, Kevin Nealon and Nia Peeples to name but a few. I've always had respect for established comedians giving newer comics a chance to shine and get exposure in the business. Good karma, Bob.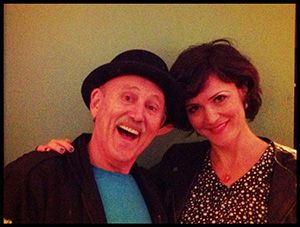 Bob has a philosophical attitude when it comes to the comedy business. "What makes people laugh hasn't changed in the past 30 years. That and it's something I've always wanted to do." A lot of his experience regarding comedy has been documented in a fascinating DVD documentary called "Close But No Cigar" that chronicles Bob's ups and downs in the comedy business. It's pretty blunt and straight-forward. Just like Bob.
Zany's many credits include being on "The Tonight Show with Jay Leno," 17 years as part of the annual Jerry Lewis Muscular Dystrophy Telethon and has made appearances on Comedy Central. On the big screen you've seen Zany in "I am Comic," "Joe Dirt" starring with David Spade, "Up Your Alley" opposite Linda Blair and playing a lawyer in Matt Damon's "The Informant!"
His latest movie, "23 Minutes to Sunrise" directed by Jay Kanzler and starring Eric Roberts and Nia Peeples, has a release date this year.
With "Zan vs. Zany" I think Bob has really hit paydirt. Expect a long run in Las Vegas and also a television show based on their comedy show of the same name.
Action figure name Zan
It's funny, but looking back, the only thing I knew about Zan Aufderheide (and yes, it took me forever to learn how to pronounce her name. Her last name) was through Bob Zany. It was Bob who first introduced me to her via the radio and so every Thursday morning I've had "A Moment of Zan" on my morning show for almost four months now. Before she joined with Bob for their "Zan vs. Zany" show, Zan Aufderheide (I can barely spell it, let alone pronounce it. Her last name) was a headlining comic primarily known in the Midwest.
She was already making inroads on both coasts making a name for herself before Bob intervened.
A Midwesterner who calls Indiana home, Zan has a down-to-earth quality about her that garnered a nice little following just from her chats on the air every Thursday. Now that she was showcased at venues in L.A., New York City and, most recently, Las Vegas, I've joked with her that I hope she doesn't lose that Midwestern mentality, a charm about her that makes her so sweet. Now that I think about it, this show could have easily been called "The Sweet & Sour Show," "A Gen-Xer Meets A Boomer" or "The Optimist & The Pessimist."
Zan has paid her dues (and is still paying them by working with Zany) doing clubs from hell on the road, resorts that have comedy shows but shouldn't, corporate engagements (most good, some not) and yes, even churches.
Not surprisingly, Zan has done very well at church-sponsored events in part because her act is clean and very relatable to people across the demographic spectrum. That doesn't mean she's not capable of some pretty biting zingers but let's just say Zan holds her own very well.
I'm guessing that's what Zany saw in Zan when he first started seeing her perform, which means you can add talent agent to Bob's growing repertoire of credits.