Throughout life, I've felt I was consistently "not getting the memo," so to speak.
For example, in the second grade I was invited to a "girls only" birthday party, for Caroline, the prettiest girl in class, who lived in a mansion. She had perfect hair, perfect clothes and a perfect older sister who had Barry Manilow posters hanging on the wall. My family was different. My Dad cut my hair, my favorite sneakers were purple and my sisters listened to the Beatles. We were trying to keep up with the Jones's, but were often a day late and a dollar short. In fact, we were about an hour late getting to this particular birthday party. As Mom pulled into the long driveway of the mansion, all the girls had been lined up on the front steps, in front of what looked like a Plantation, getting a group picture taken by a photographer for the newspaper. It was a sea of white frilly dresses and bobby socks. I did not get the memo. I was rockin' polyester pants, a cow boy shirt, and my purple sneakers.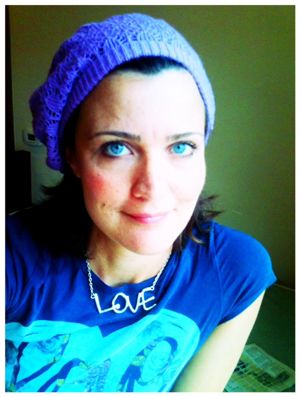 "Oh please hide me," was all I could think. But I couldn't even talk. My mouth just hung open. Mom stopped the car abruptly at the entrance to the driveway. We both stared at the obvious social train wreck about to happen. The realization, that I was about to be the only Tom Boy in a world of perfectly appointed rich girls, made my brain freeze. I turned into an ice sculpture and was hoping for a heat wave so I could melt and disappear.
My compassionate mother, who could see I was nearly a puddle on the floor boards said, "Do you want to go back home and put on a dress?"
Shrinking down in my seat so no one would see me, I muttered "Yes."
Now, the last thing on Earth that I ever wanted to do, as a little girl, was wear a dress. They didn't make any sense to me. If the wind blew or you jumped the wrong way, your under wear was exposed. Come on, that's crazy. They made you vulnerable, and you couldn't even play in them. I guess you could play house (yuck) but kick ball and soccer were out. Heck you even had to check the way you bent down to sit on the floor. Give me a break. Back then, given the choice between wearing a dress, or digging a ditch, I'd say "hand me the shovel" every time. At least then you'd get to be playing in the dirt. But I desperately wanted to fit in, so I went home, picked out my least annoying dress, and Mom helped me into a pair of tights. She got them up past my knees and then grabbed the waist of them and bounced me like a cement yo-yo. I felt like my dogs must have felt when I dressed them up in people clothes; I had their same pitiful look. Neither the dogs nor I enjoyed a minute of being a doll, but our sweet torturers just loved it.
I don't remember the drive back to the party, but I remember that when I got there, everyone let me know that I had missed out on the group photo that was going to be in the newspaper. Big deal I figured, who wanted to read about a kid's party anyway, and besides, I felt bad for the photographer. Surely he would have rather been on assignment in Africa. Then, someone asked if that was me in the car that pulled into the driveway and then left. Uh oh. My plan was to say nothing, act casual, and avoid eye contact. "Nope, wasn't me. Don't know what you are talking about."